十一月的故事:五月花-II号修复工程 - 虹摄写(11/2017)
2017-11-28
阅读 1230
午后柠檬树下的阳光
Mystic Seaport shipyard: Mystic Seaport Is not only a maritime museum, it is also a special shipyard for making or repair wooden boats. One can observe the basic process while walking through the shipyard. Mystic 航海博物馆不仅是个带有娱乐教育性质的博物馆,而且还是个木船建造维修基地。游客可以进来参观了解修建过程。
What is in the white dome? Inside sits Mayflower II 目前的一项具有历史价值的工程是修复五月花- II号(图为船的基本构架和尺度)。对,这不是1620年载着清教徒们跨越大西洋的"五月花",而是她的翻版. 1955-1956期间按照五月花号图纸以传统方式由英国建造。1957年重新演绎第一艘五月花跨越大西洋之旅后停靠在麻省Plymouth Plantation ,专门记载清教徒逃离宗教迫害开创新大陆的早年经历 注:"五月花"已经不复存在。据说残留的少许物件被某些博物馆收藏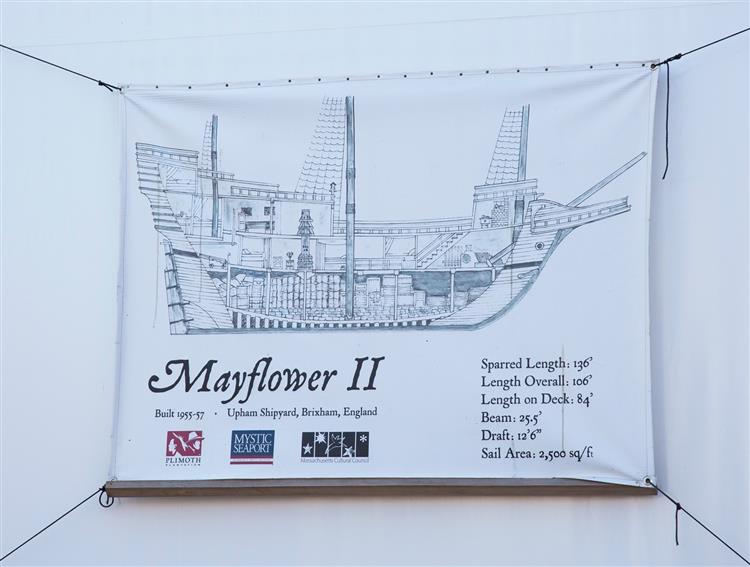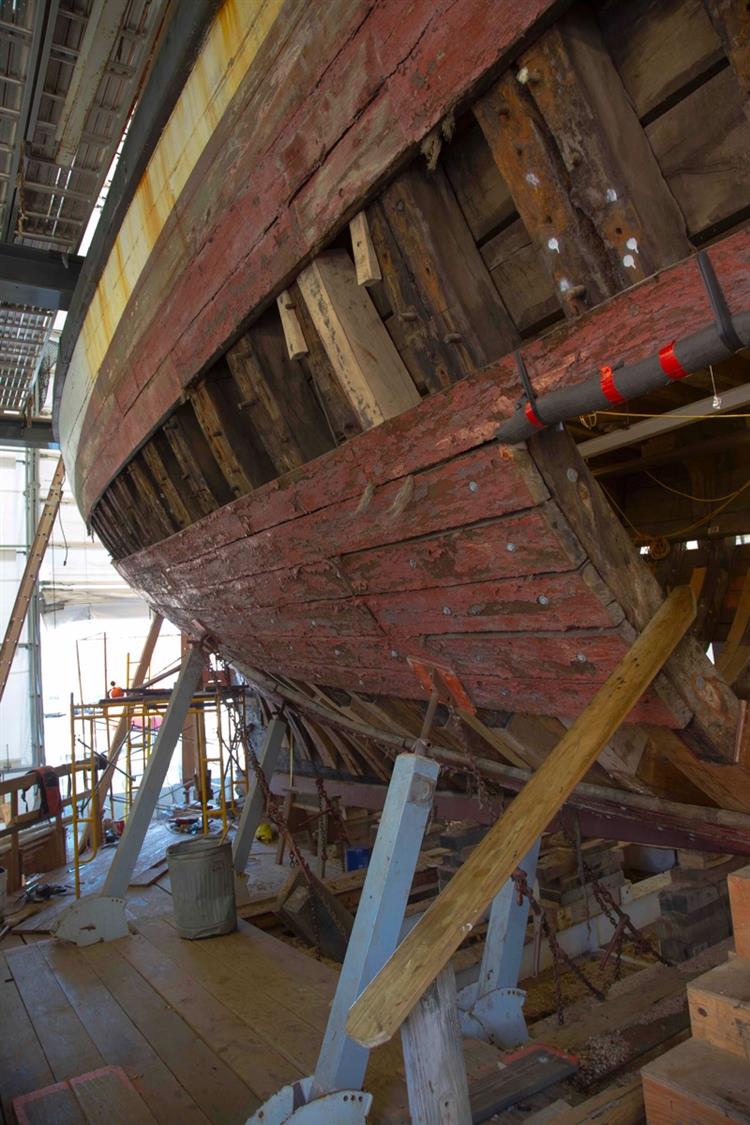 Having sailed for 60 years, Mayflower II has many wooden structures in need of repair 需要修复的船舷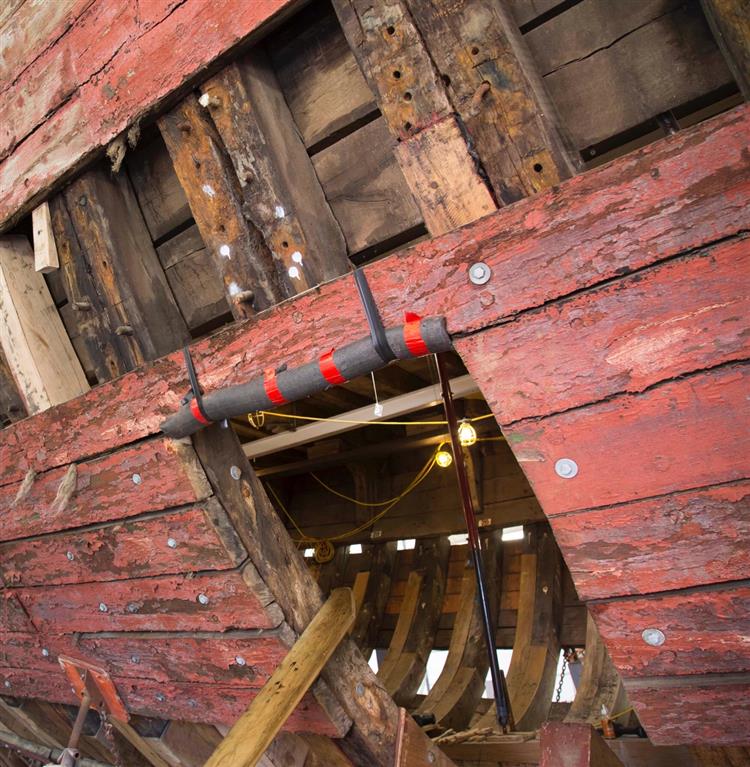 需要修复的内壁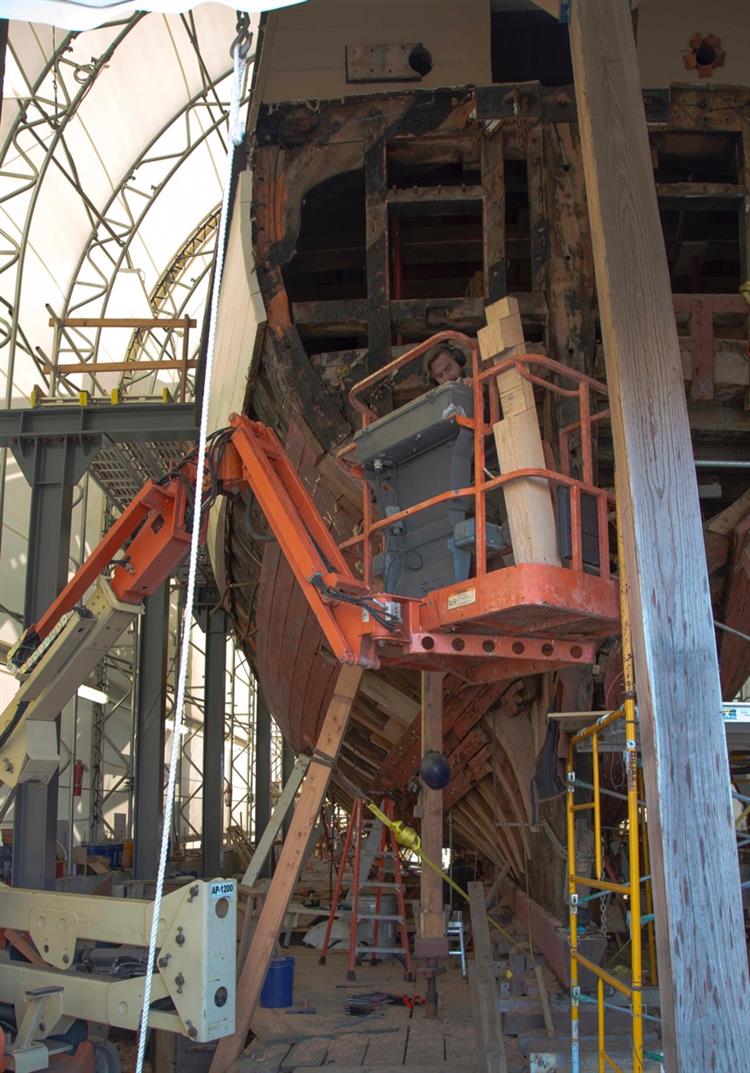 被置换的船木结构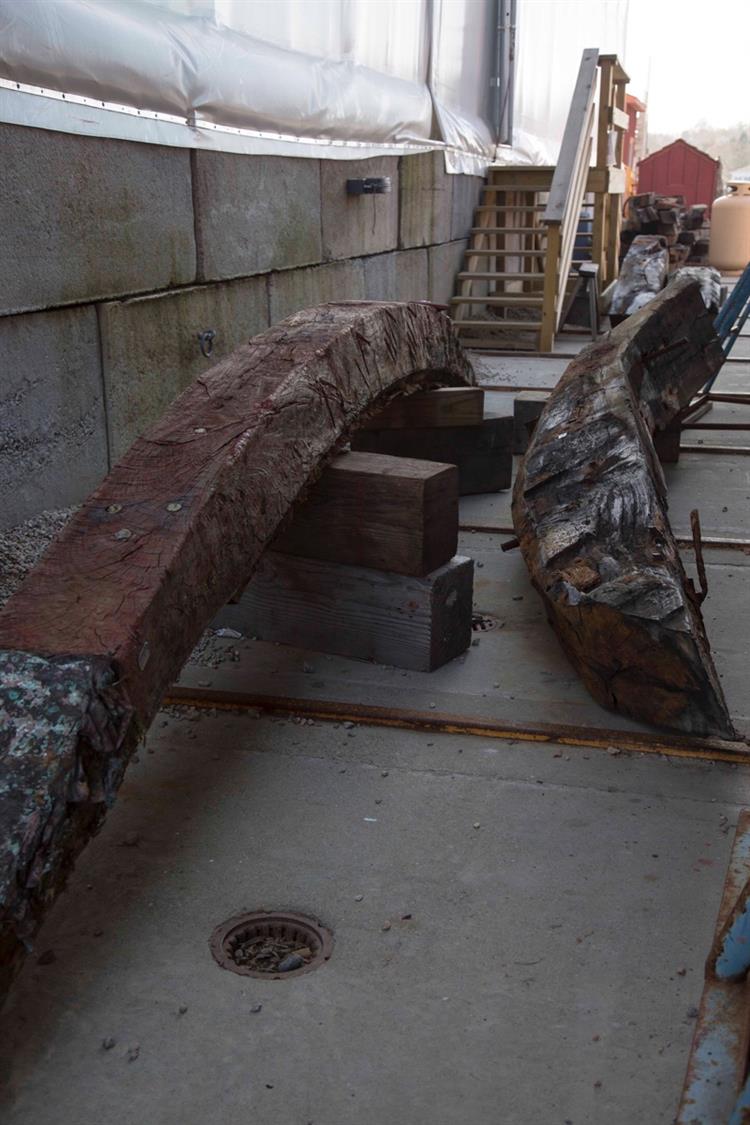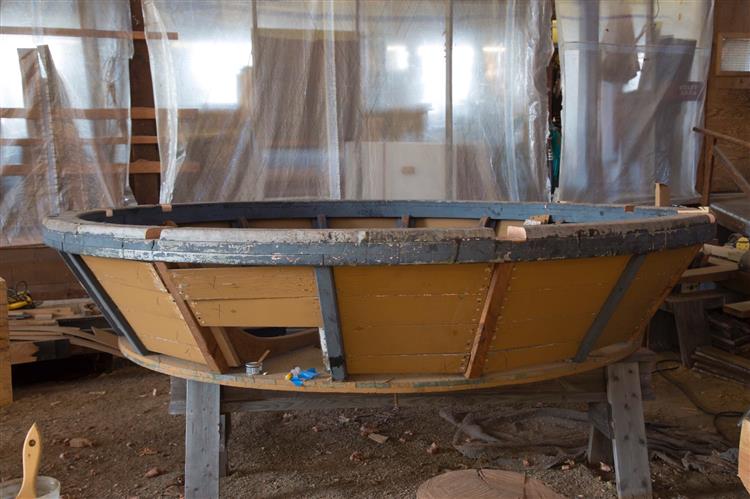 Henry B. DuPont Preservation Shipyard was officially open for business in 1843 (an interesting story in itself). 造船厂房主要是制作船上的木质结构.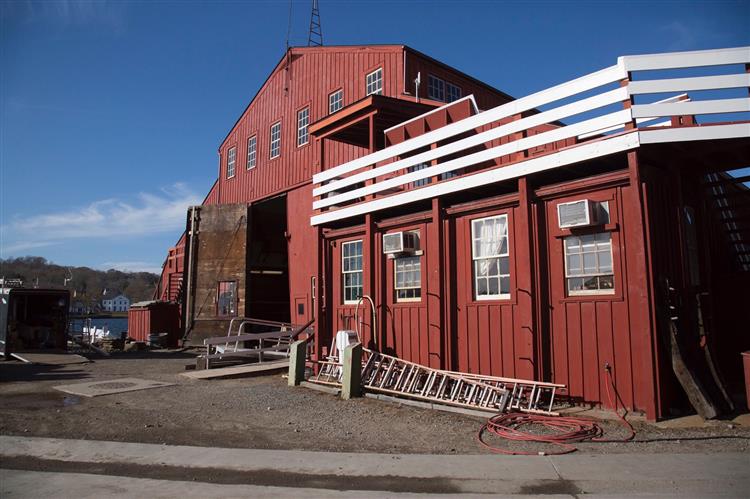 不知这扇门是不是也是1843年留下来的。厂房长年开放即使在寒冷的冬季,这里也不休闲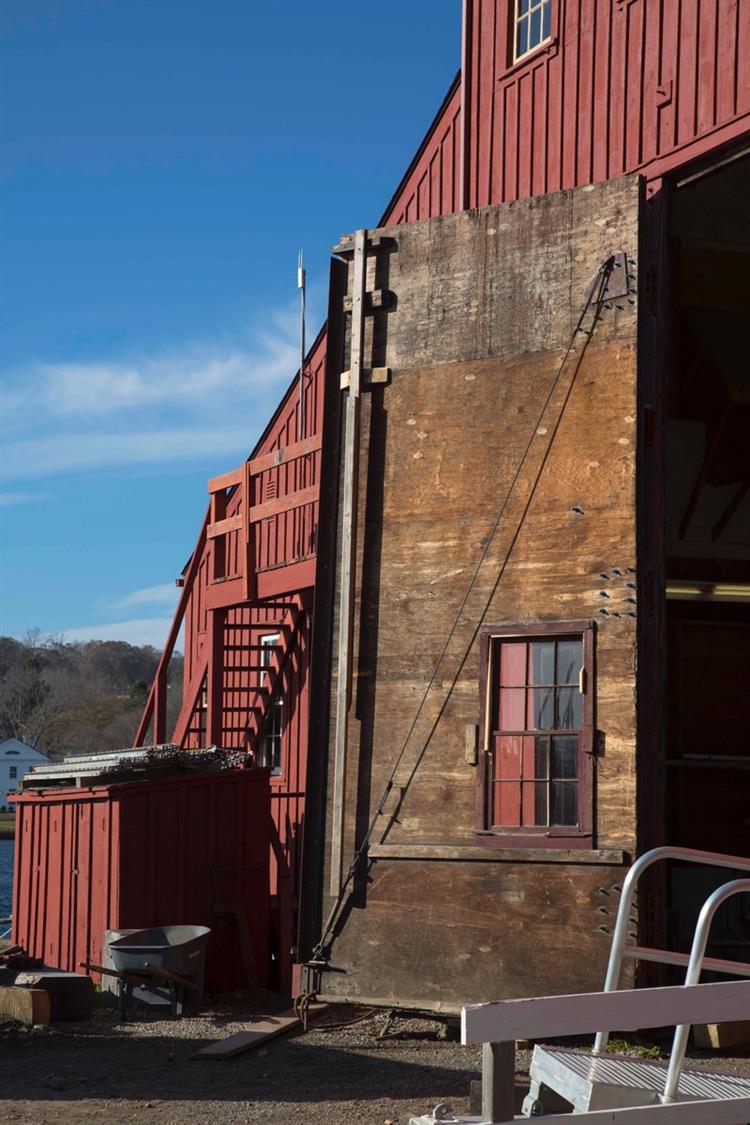 造木船算是工艺活计。在这里你真可以亲自目睹船上每一件木质结构如何从选料,采取,切割、刨磨的全过程,并遇见有趣的工匠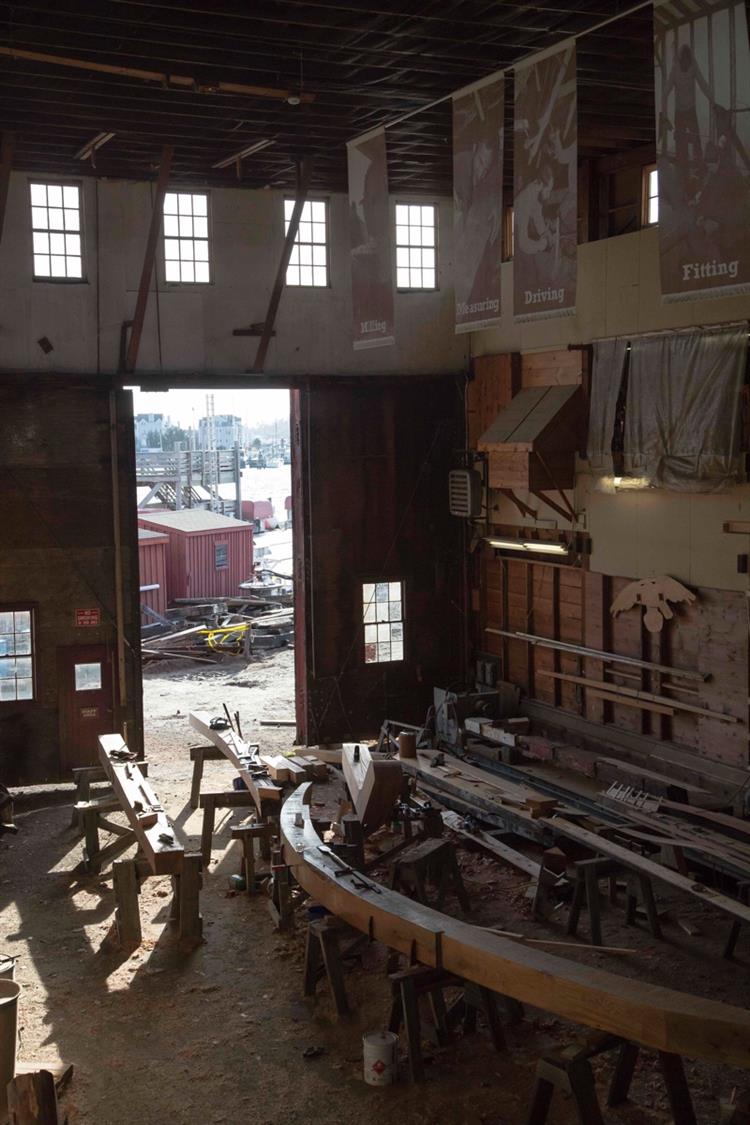 John proudly introduced himself as one of the shipwrights (someone who builds a boat). He went through 7 years training (2 years in school, 2 years apprenticeship and more years of learning on the job). He came from San Diego where he built both wooden as well as fiberglass boats. But he much preferred to work on wooden boats. "Why?" "The working condition of making fiberglass boats are horrible" he said. One has to wear insulation suits and masks to avoid exposure to toxic material. Of course Fiberglass boats are much more durable and have essentially replaced wooden boats in modern days.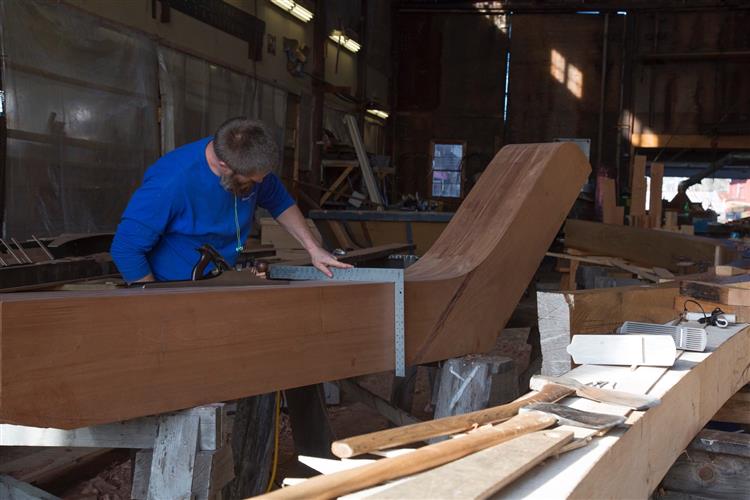 Noah specialized in wood cutting. He was using the Woodmizer (wood cutter) to cut the wood into planks. He had to adjust the machine repeatedly to achieve the desired shape, length or width. Noah在操作机器切割裁木过程中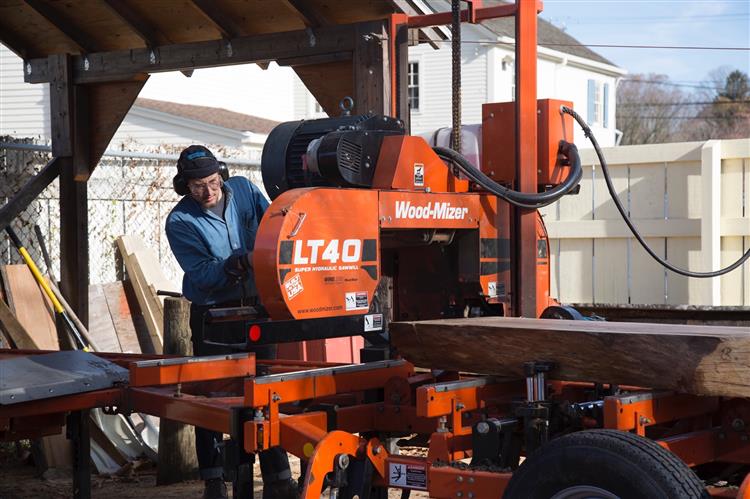 各种被切割过的木材。 用来造船的木材有特殊要求,包括具有较强的天然抗腐蚀性能,数结间距足够远等等。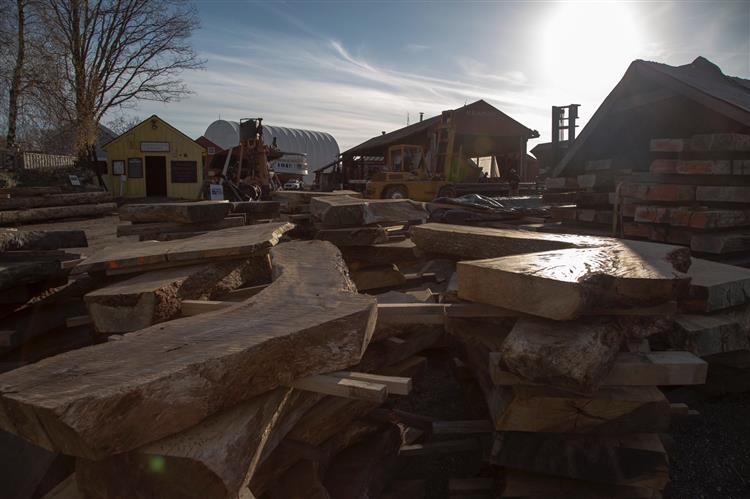 A Ship Knee - is the joint connecting two logs in an angle. Interestingly, it can be found in natural trees where branches form.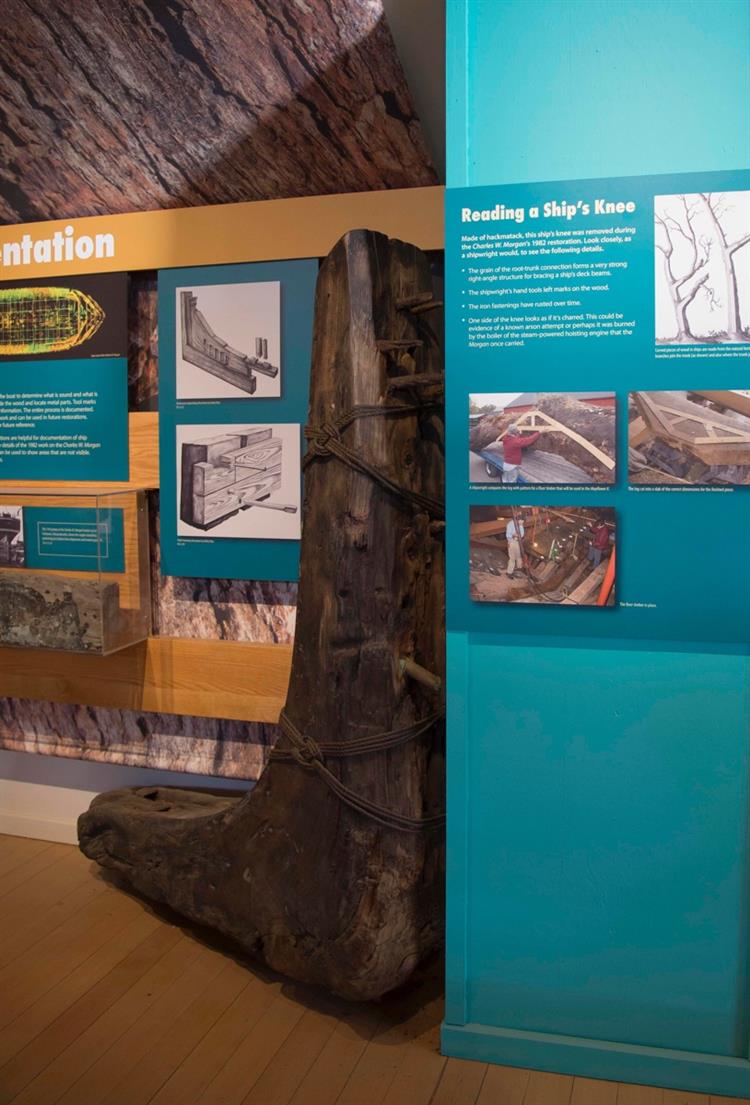 Chris is also a shipwright. He was called upon to join the team for Mayflower II restoration project. Before joining this project he builds smaller recreation boats on his own. He was responsible for the design of all the knees on this ship. Chris专门负责设计打造"船膝",船木板转弯的链接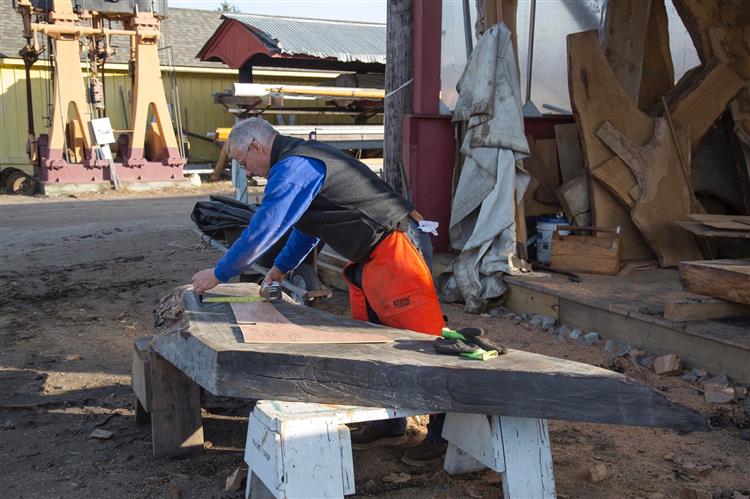 打钻工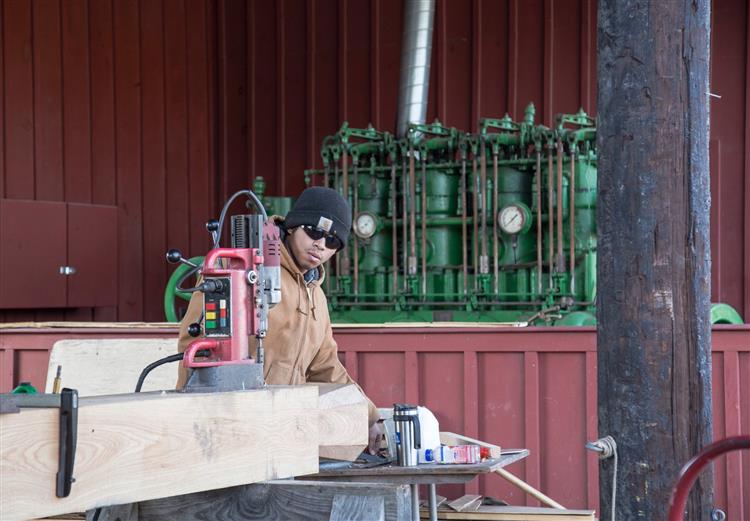 储存木料的仓库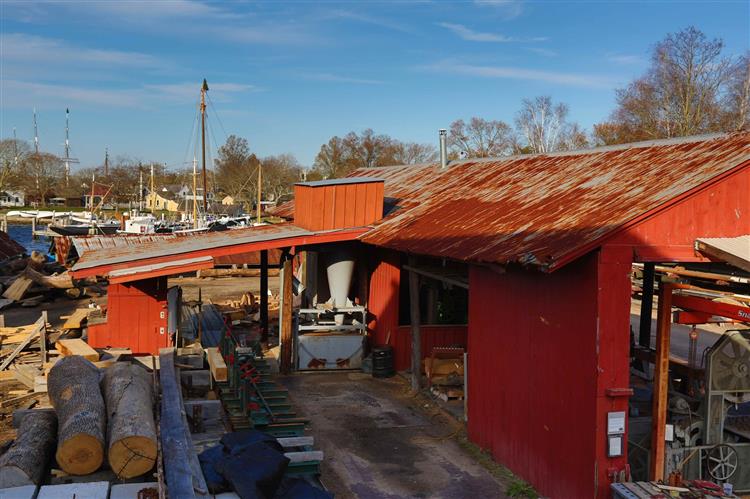 储存木料的仓库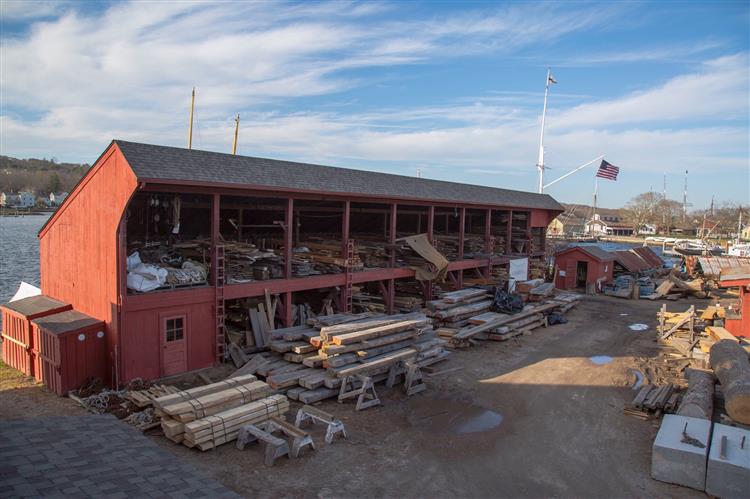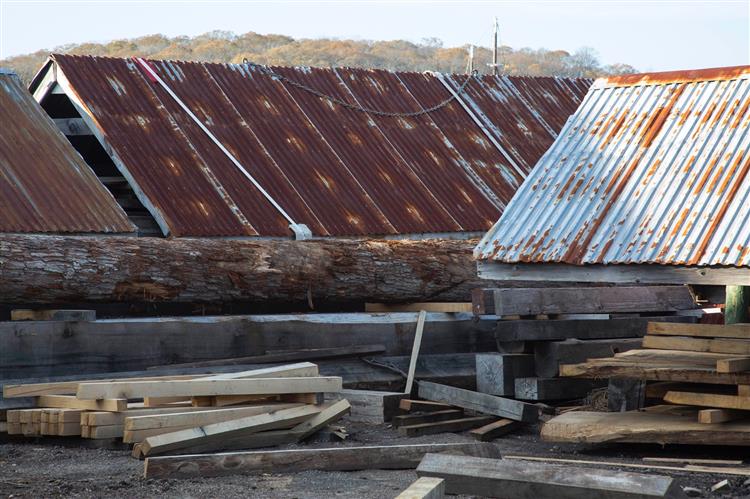 建造Mayflower II 的系列图片有更详细的介绍!感兴趣的可以上网了解更多,但亲自来参观更加趣味横生!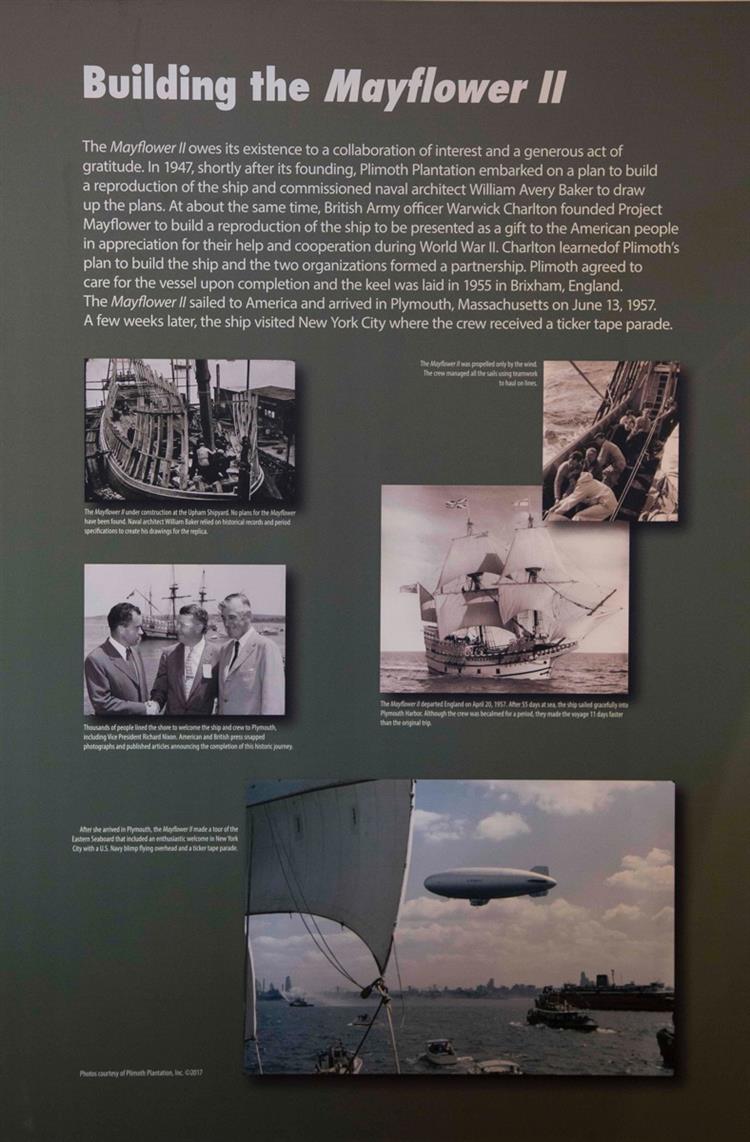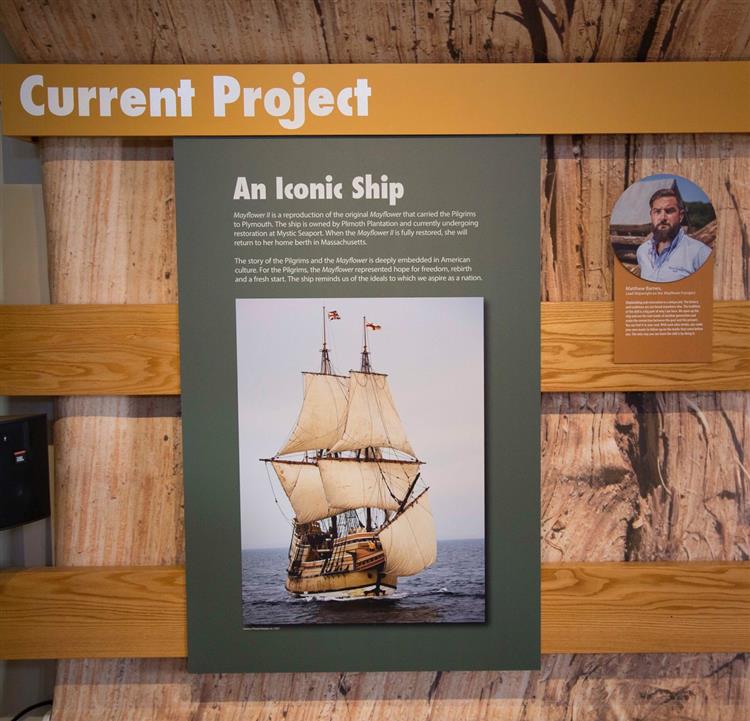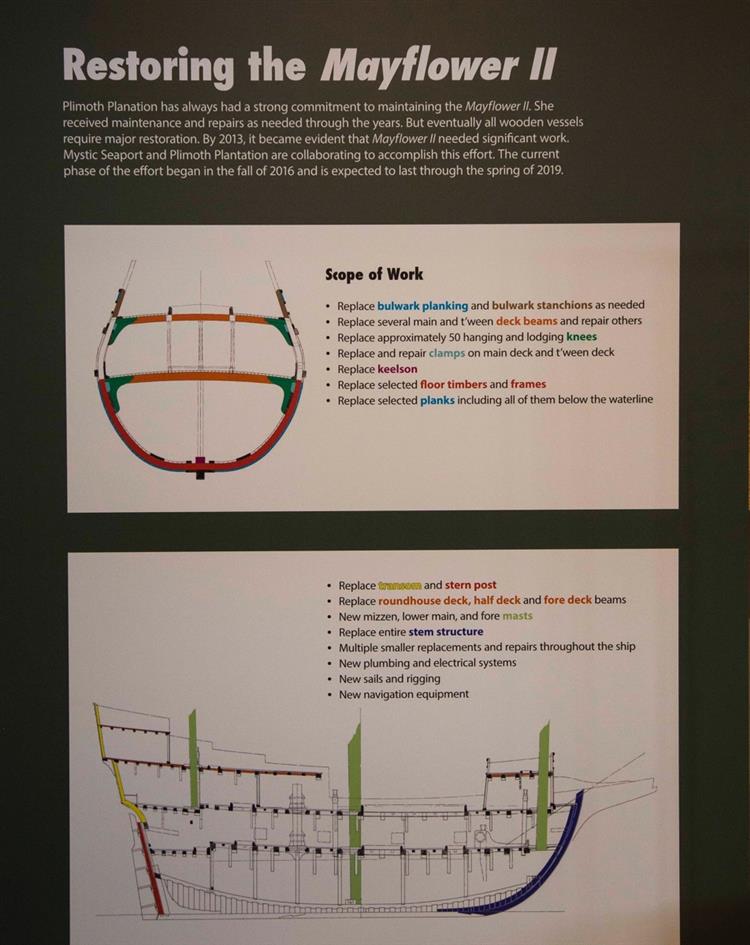 "五月花-2号"将于2019年完成修复,于2020年重新起航,以此纪念"五月花"航程400周年!令人激动期待!
What made the pilgrims sail across the Atlantic Ocean? Was it the desperation and fear of persecution? Was it the vision for a promised land of a better life? Was it for freedom of believe? Yes, for all above! Would they do it again? Yes they would. So did all the immigrants! Moreover, where our body cannot reach, we travel in spirit!